About Pellegrino
Pellegrino Food Products Co., Inc. is an approved FDA as well as USDA bakery/meat plant located on the East coast. Its 50,000 square foot facility specializes in a variety of product lines such as canning, entrée, bakery, pot pies and enrobed and encrusted hand-helds.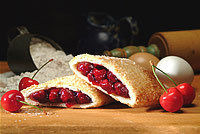 A wide array of baked or fried items are currently produced such as: Calzones, Strombolis, Meat Pies, Fruit Pies, Chicken Pot Pies, Pepperoni Balls, and Ciabatta Breads. Canned items include many flavors of Peppers in Sauce, Peppers and Onions in Sauce, Pizza Sauce, Hoagie Sauce and Meat Based Sauce. Bakery items range from Cinnamon and Raisin Placek Breads to Italian Almond Cookies and Hand Made Puff Pastry Pretzels.
Pellegrino Food Products Co., Inc. services national customers and is continuously pursuing new products, new customers and new marketing concepts to support the growth of our family owned company.
Through the years, Pellegrino Food Products Co., Inc. has had the good fortune and opportunity to work with major food suppliers and retailers throughout the United States. Our family business, rich in family values , understands the need and importance of building business relationships that last. We strive to promote this through quality and excellence.
Our sales staff can be reached at (814)-723-3402 to answer any questions and /or discuss any opportunities to work together on existing products or new product development by brand name or private label co-packing.
Let us service your manufacturing needs today!