Welcome
Pellegrino Food Products Co., Inc. is an approved FDA as well as USDA 50,000 square foot bakery/meat plant located in Warren Pennsylvania, specializing in a variety of product lines such as canning, entrée, bakery, pot pies and enrobed and encrusted hand-helds. Pellegrino Food Products Co., Inc. services national customers and is continuously pursuing new products, new customers and new marketing concepts to support the growth of our family owned company. Our family business, rich in family values, understands the need and importance of building business relationships that last. More Information »

---

Medium Peppers in Tomato Sauce
Ingredients: green sweet peppers, tomato sauce, vine ripe red tomatoes, vinegar, soybean oil, salt and spices. No cholesterol - No added sugars. For the person that likes a little zing in their sauce.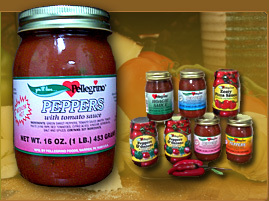 In the food industry, all you can sell is the consistent quality of your product.
"Our company started out in a small grocery store, where my parents sold peppers as a specialty item to hunters. We were the originator of the recipe to sell peppers in tomato sauce. Now, we're a USDA and FDA approved food processing company. It's still a family business with the same quality standards we had when we started."
Anthony Pellegrino, Sr.
CEO
Pellegrino Foods