Family Recipes
ITALIAN STYLE PEPPERS with TOMATO SAUCE
Hot • Medium • Sweet
Suggested uses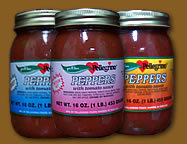 GREAT STRAIGHT OUT OF THE JAR
On steak
Topping for pizza
As a side dish
Add to chili or spaghetti sauce
On your favorite sandwich
On meatloaf
Scrambled in eggs or added to omelets
---
OPEN-FACED PEPPER-STEAK SANDWICH
| | | |
| --- | --- | --- |
| 1 ½ round steak, cut ½ inch thick | 1 loaf Italian bread | 8oz. grated mozzarella cheese |
| Butter or margarine | ½ tsp. basil | |
| 1 jar Pellegrino Peppers | ½ tsp. garlic salt | |
Preheat broiler. Cut steak into ½ inch-wide strips. In large skillet over high heat, in 2 tablespoons of hot butter or margarine, fry meat 3 minutes stirring occasionally. Stir in Pellegrino Peppers in Tomato Sauce, continue cooking 5 minutes or until meat is fork-tender, stirring occasionally.
Meanwhile, cut bread in half horizontally; spread with butter or margarine; sprinkle with garlic salt and basil. Broil bread halves until toasted. Spoon meat mixture over bread halves; sprinkle with cheese and broil until cheese melts. Cut each half crosswise into 3 sections.
Makes 6 servings.
---
ITALIAN PEPPER AND SAUSAGE SANDWICH
Boil Italian sausage until cooked thoroughly. Drain. In large frying pan, fry sausage until golden brown. Add jar of Pellegrino Peppers and simmer until hot.
Cut rolls in half and cover bottom half with pepper and sausage mixture. Sprinkle with mozzarella cheese cover with top half of the roll. ENJOY!
(May be wrapped in foil and heated in the oven)
THIS MIXTURE ALSO MAKES A GREAT HORS D'OEUVRE.
"QUICK and EASY" MEAL.
Do you have a night that it seems rush, rush, rush? Here is a simple, fast, tasty and easy to make "Sloppy Joe"
Simply brown 1 - 1 1/2 pounds of Ground, Beef, Chuck or Sirloin. Drain any fat off.
Add 1 Jar of Pellegrino Hoagie Sauce and heat through.
Serve on your favorite type of roll or bun, or try an open face sandwich on your favorite bread. I love the Kyser Rolls.
If you want to spice it up a little, or add a little zing to it try adding a few of your favorite Pellegrino Peppers either mixed in the sauce or just on top of your sandwich.
Add your favorite chip and you have a tasty, fast and easy meal the whole family will love.
Makes about 6 - 8 sandwiches depending on how much meat you use and what type of roll.
If you have a favorite recipe that you make with Pellegrino Peppers and would like to share be sure to send it to us. We would love to show case it on our website.